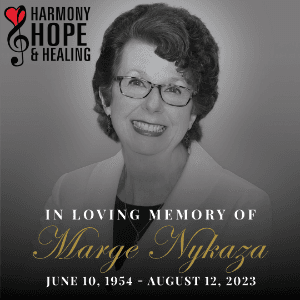 Marge Nykaza - Harmony Hope and Healing
Voices of Impact: Stories Inspired by Marge's Legacy
We invite you to share your personal experiences and reflections on how Marge Nykaza, the visionary founder of Harmony, Hope & Healing, has made a lasting impact on your life. Whether through music therapy, community partnerships, or her unwavering dedication to healing, we want to hear your story. Your testimonials will not only honor Marge's legacy but also inspire others with the transformative power of music. Join us in celebrating her vision and the lives she touched by adding your voice to this collection of meaningful narratives.
What you could mention:
Share a specific memory or interaction with Marge that left a profound mark on your journey.
How has music, guided by Marge's vision, been a source of healing and strength for you?
How did Marge's collaborative spirit and community partnerships create a positive change around you?
How do you see Marge's legacy continuing to inspire others in the future?